To help improve your experience we use Cookies, by browsing this site you accept the use of Cookies.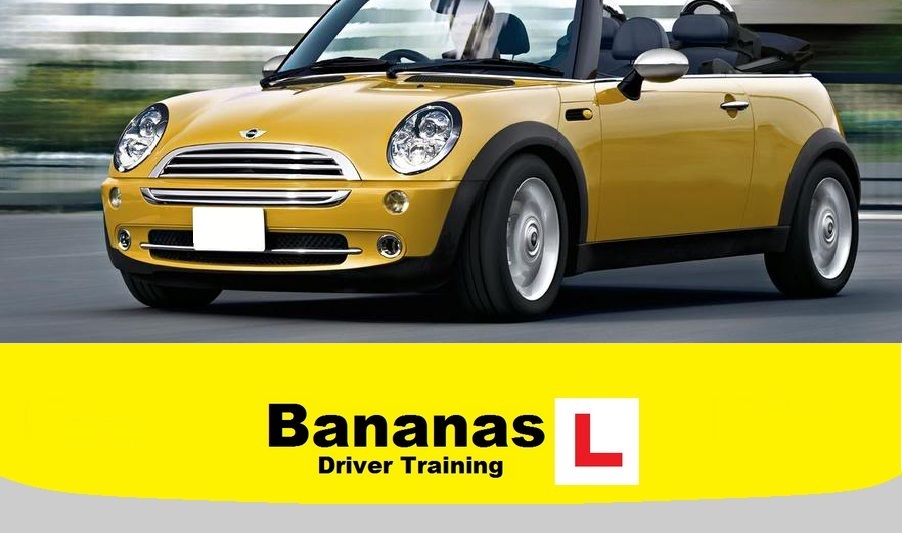 Drive Me Bananas
Driving Lessons Edinburgh

We are with you all the way to your driving Test... and Beyond!


Driving School Edinburgh
Bananas Driver Training Scotland

Making happy drivers since 2007....


Pass your driving test quickly with Bananas driver training, driving lessons to suit your life style and budget. Fast track intensive crash course or weekly

driving lessons in Edinburgh

and the Lothian's, you choose. Bananas Driver Training only use fully qualifed DSA ADI's. We pride ourselves in providing the

highest quality driver training

during every driving lesson to ensure our customers gain the most from their driving lessons. Our structured courses are designed to reduce the time and cost required for learner drivers to become safe, confident and competent drivers and pass the practical driving test.

Bananas Driver Training specialise in offering

Intensive courses

in addition to weekly driving lessons in Edinburgh.

We offer professional driving tuition in manual and automatic cars in Edinburgh, East Lothian, Midlothian and West Lothian.

Bananas Driver Training offer

B+E car and trailer training

for DSA B+E licence acquisition as well as training for full licence holders. Our B+E trainers are fully qualified DSA ADI's and experienced vocational licence holders who have themselves passed the strict DSA trailer test in an articulated lorry. We pass on our industry expertise gained from driving LGV and PCV vehicles throughout the UK.

D1 D1+E minibus training Edinburgh.

C1 C1+E 7.5 ton lorry training Edinburgh

Driving tuition for the disabled using left foot accelerator, hand controls and steering adaptations.

Do you need to Pass Fast?
We offer a one week
automatic
intensive driving course in Edinburgh!


We also offer:

Free online support to our present and past customers

Free Theory Test Training online

Free advice
to our customers
on choosing a car


Our business is driven by our customers, we will let them do the talking:


Learnt to drive with Jonathan in and around Edinburgh City centre. Throughout he was supportive, relaxing and would give ideas and personal experiences that made learning to drive an experience to remember! Would recommend his company to everyone! Excellent!


Lorraine Cahill
- Airdrie
Learning to drive with Dimtris was great! We covered a lot quickly, but there was enough time to go through everything needed and practice it well in time for the practical test. However, the lessons were also exciting! I would definitely recommend this driving school. Thanks Dimtris for helping me get my license!


Ashray Shastry
- Edinburgh


Spent 4 hrs with Johnathan and then passed a B+E test first time with flying colours.
Would recommend Bananas Driver Training.
To anyone if they are considering to learn to drive.
Johnathan was friendly, and generally was a great instructer.


Stephen Reid
- Edinburgh
Jonathan went well above and beyond the call of duty by clearing the snow and ice from the test center reversing area to allow my test to go ahead. His clear instruction made the whole process very straight forward. Many thanks for getting me through my B+E car and trailer test.


Graham Ralston
- Kirriemuir
Recommend Bananas Jonathan and thanks for getting me to my test!! Passed today and v.happy!!!
Marianne Hunter - Portobello Edinburgh
Testimonials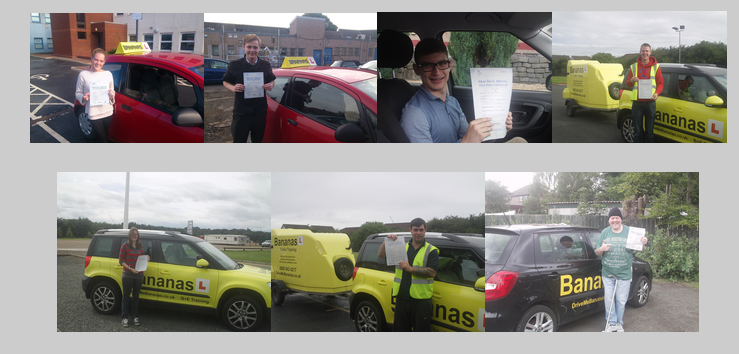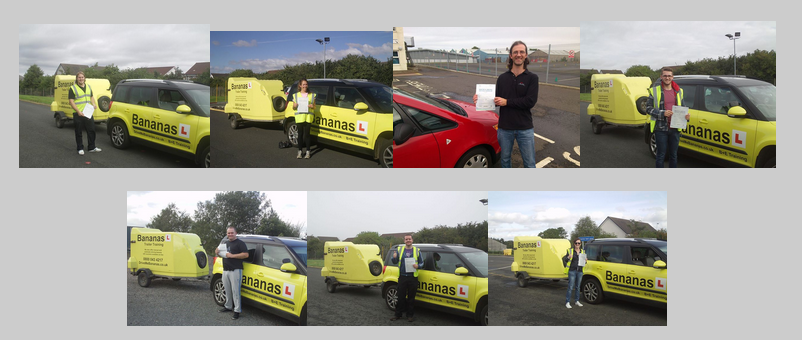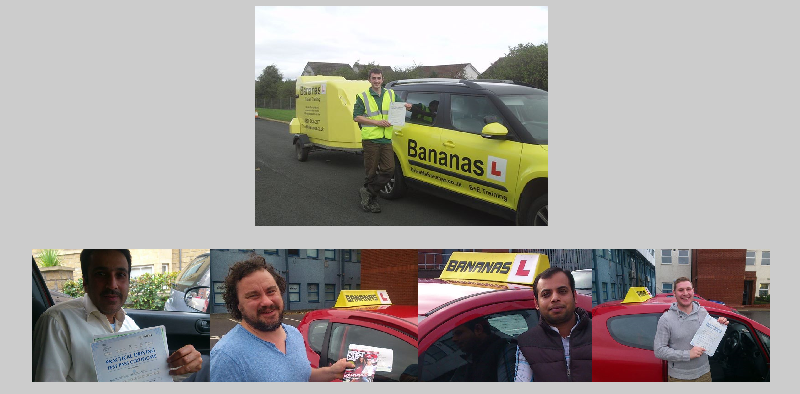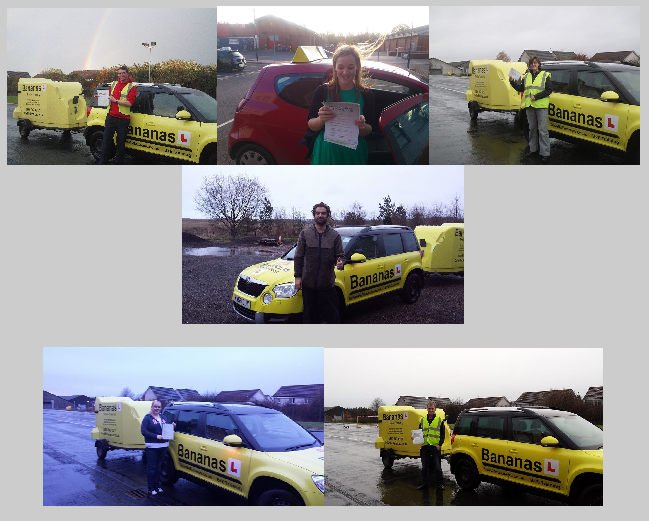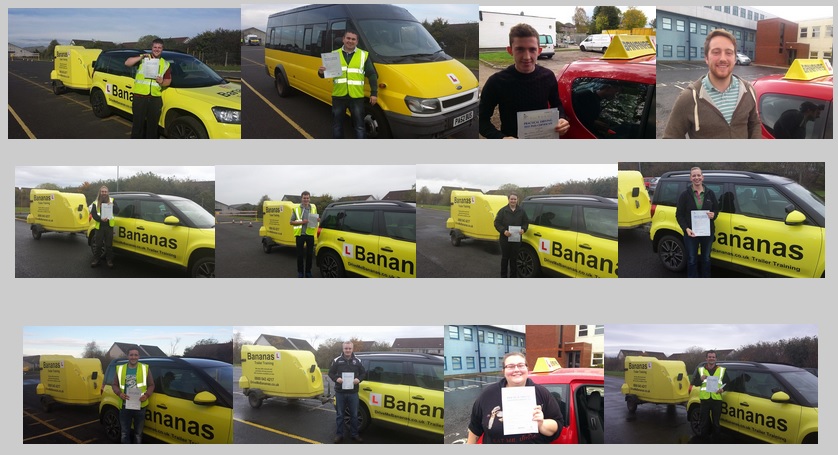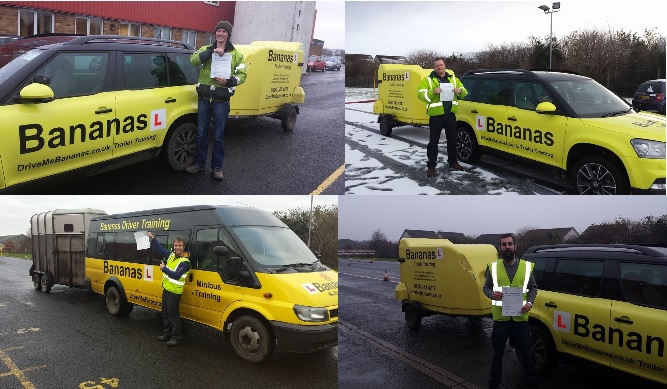 Read more reviews
Are you looking for the best quality driving lessons?
Do you want to pass your driving test quickly?
Do you want to save money and pass as cost effectively as possible?
Do you want to pass first time?

If the answer is YES....

Then get in touch and lets make it happen!


Recent News
Read our Blog


DSA change their advice
about driving lessons:
On average, people who pass their driving test have had 47 hours of driving lessons
with a driving instructor and 20 hours of private practice.
This has increased from the previously recommended 45 hours of professional driving tuition.
Government suggest changes to learning to drive and the Driving Test.



Statutory Information



Jonathan Smith DSA ADI T/A
Bananas Driver Training (Drive Me Bananas School of Motoring)
252 Viewfield Road
EH55 8XF

B+E car and trailer training Edinburgh, B+E van and trailer test Scottish Borders
BE trailer towing test Glasgow, B+E van and trailer training Perth, Caravan safety training Dundee, Trailer test Fife,

D1 minibus training edinburgh, glasgow, stirling, larbert, falkirk, dunfermline, kirkcaldy, dundee, st andrews, fife, midlothian, east lothian, lothian buses, livingston, glenrothes, calander, aberfoyle, crief, inverness, newcastle, birmingham, london, bristol, nottingham, armadale, west calder, bus pcv psv lgv hgv D1E D1+E C1 C1E Ambulance Horse lorry

Site Map


Go Bananas Driver Trainng, Driving Me Bananas Driving School, Bananas are Yellow, Driven Bananas.
© Drive Me Bananas School of Motoring Edinburgh 2007, 2008, 2009, 2010, 2011, 2012, 2013, 2014, 2015