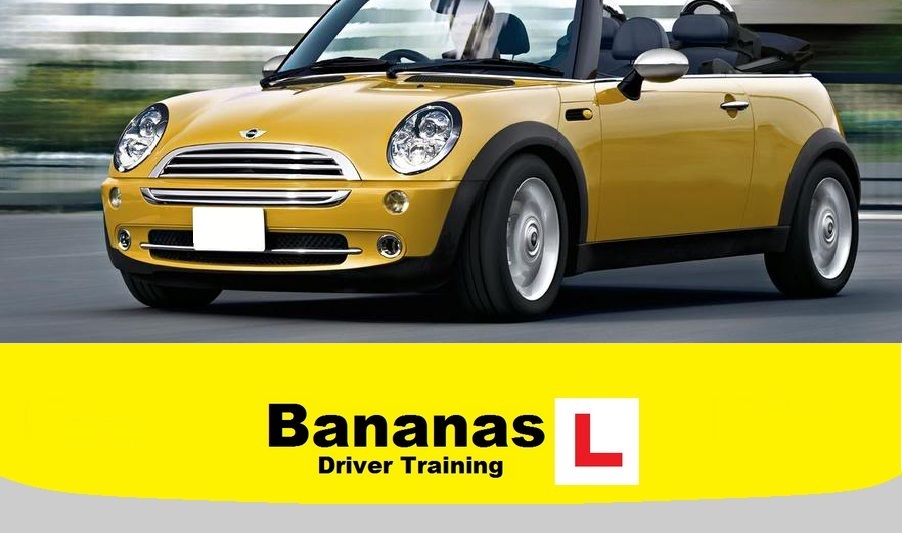 Freephone 0800 043 4217


Prices

1.1.13

Manual Car Provisional Licence Holders


First 4 hours for Beginners £60
(pre paid taken in 2 hour blocks)


17th Birthday Package £30
2 hours on Birthday


Bronze Package 30 hours over 3 weeks £660

Silver Package 20 hours over 5 days £440

Gold Package 24 hours over 6 days £530

Platinum Package 28 hours over 7 days £620

Block booking

5 hours £115

10 hours £230

20 hours £440



Retest Package 6 hours over 2 days £130

Drive Me Bananas for a day 4 hours £90



1 hour Lesson
£24

DSA weekday Practical Test £62






Manual Car Full licence holders



Refresher Lessons £50 per 2 hours


Pass Plus Adventure Day
£150

Advanced Driving £50 per 2 hours

Motorway Confidence Booster £50 per 2 hours

Older Driver MOT £50 per 2 hours





Specialist Driver Training Services


Automatic Car
£poa


Adapted Car

£poa




B+E Car and Trailer


Introductory session 3 hours £120

Test day use of vehicle and pretest session £120

DSA B+E weekday practical test £115

>> Basic package £120 + £120 + £115 = £355 <<


Additional Training if required £40 per hour (min 2 hours per session)

2 Day and 3 Day courses can be arranged just ask.


Prices based on Livingston operations. Vehicle positioning fee may apply to other locations.



Commercial Vehicle Training

Contact for quote, training available in following classes of vehicle
Car, Van, Minibus, Bus, Lorry (all vehicles plus trailers as required)

Category B B+E C C1 C+E C1+E D D1 D+E D1+E



Fleet Driver Training and Assessment

Eco safe driving
Driver Pre Employment Risk Assessments
Periodic Assessment and Training
Full written reports
Category B B+E C C1 C+E C1+E D D1 D+E D1+E contact for quote



Driving Instructor Training

ADI Part 1 contact for quote
ADI Part 2 £50 per 2 hours
ADI Part 3 £60 per 2 hours


The legal stuff:



All Lessons are a minimum of 1 hour duration, 1:1 ratio of instructor to pupil.
Lessons may be supervised by another instructor or examiner for quality assurance purposes.




Jonathan Smith ADI trading as Drive Me Bananas School of Motoring (Bananas Driver Training) act as an agent introducing pupils to instructors, please be aware that any money paid directly to an individual instructor is a contract between the pupil and that instructor. Gift Vouchers are only valid when issued by Jonathan Smith.






Our business is driven by our customers
"Firstly I would like to thank Jonathan for all his hard work in getting me ready for my test in such a short length of time. I had my first lesson on the 18th of August 09 and I passed my test today (15/10/09). Jonathan was always punctual and he put me at ease from the very first lesson. He was very clear when he was teaching anything and he was happy to go through anything I felt I needed to do again. Jonathan's relaxed attitude played a big part in me passing so quickly and first time. I would highly recommend doing your lessons with Drive Me Bananas as it is an amazing driving school. Thanks again Jonathan." Darren Kinsey (Passed First attempt at Haddington test centre)

Drive Me Bananas School of Motoring
121 Waverley Crescent
Bonnyrigg
Midlothian
EH19 3BW
0131 660 2587 ~ 07 875 769 115 ~ 0800 043 4217
Site Map
Go Bananas Driver Trainng, Driving Me Bananas Driving School, Driven Bananas.
© Drive Me Bananas School of Motoring Edinburgh 2007, 2008, 2009, 2010, 2011, 2012, 2013