Our Business is Driven by our Customers!


"I learned to drive with Lyn. Who was fantastic and put my nerves at ease. I passed my test in October 2009. I just want to thank Lyn for being so good with me and helping my get through my driving test and building up my confidence. You where a star thanks again."
Stacey Andrews (Passed 3/10/09 Musselburgh MPTC Edinburgh)
"Jonathan, I just wanted to say thanks for everything. You've been brilliant, always so patient with me, and funny - definitely in a different league to other instructors! I don't know who was the most amazed today, you or me. Anyway, thanks again - I'll miss you! Linda" Linda Gargan Duddingston (Passed first time at Musselburgh MPTC Edinburgh 5/10/09 )
"Adrian was a great driving instructor and definitely one of the most patient people I know, I would recommend him to anyone who was thinking of learning to drive. He is very down to earth and puts you at ease immediately, and throughout your lessons he is very reassuring and positive, which is always good when you're the learner. A great guy and definitely worth learning with!. Thanks for all ur patience... u really are a great instructor even with the bad tractor jokes! ;) " Jennifer Docherty Edinburgh (Passed first time at Currie test centre Edinburgh with 3 minors 11/6/09)
Have you got what it takes to be a Drive Me Bananas Instructor?


Driving Instructor Franchise
Patient Driving Instructors required throughout Scotland.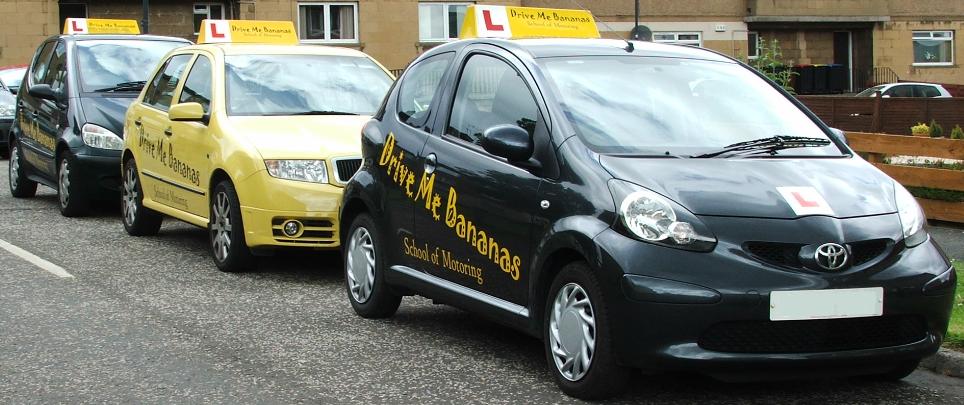 Join our friendly bunch and experience organic growth of your business.
Competitive Franchise Package.
Freephone number.
Manned Office.
High ranking website.
On going training and support.
Fair Trade policy.


Work the hours to suit you.
Annual Franchise Holiday.
Free to choose your own tuition car.
Eye catching corporate branding.
Not tied into a contract.
Become a Driving Instructor, full training can be provided, trainee positions available with Drive Me Bananas.
Driving Instructor Training Scotland
Thanks again and I'm looking forward to carrying along the with the best in industry...
Msg for all PDIs out there: "If you are looking for top class ADI training and friendly trainers, this is the best place to come to."
(Michal Jediny, passed ADI Part 3 exam first attempt in Dunfermline Test Centre 11.08.2010)